Page 16 - European Energy Innovation - Spring 2016 publication
P. 16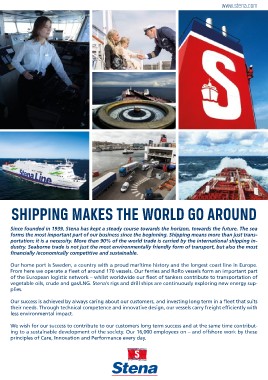 www.stena.com

SHIPPING MAKES THE WORLD GO AROUND

Since founded in 1939, Stena has kept a steady course towards the horizon, towards the future. The sea
forms the most important part of our business since the beginning. Shipping means more than just trans-
portation; it is a necessity. More than 90% of the world trade is carried by the international shipping in-
dustry. Seaborne trade is not just the most environmentally friendly form of transport, but also the most
financially /economically competitive and sustainable.
Our home port is Sweden, a country with a proud maritime history and the longest coast line in Europe.
From here we operate a fleet of around 170 vessels. Our ferries and RoRo vessels form an important part
of the European logistic network – whilst worldwide our fleet of tankers contribute to transportation of
vegetable oils, crude and gas/LNG. Stena's rigs and drill ships are continuously exploring new energy sup-
plies.
Our success is achieved by always caring about our customers, and investing long term in a fleet that suits
their needs. Through technical competence and innovative design, our vessels carry freight efficiently with
less environmental impact.
We wish for our success to contribute to our customers long term success and at the same time contribut-
ing to a sustainable development of the society. Our 16,000 employees on – and offshore work by these
principles of Care, Innovation and Performance every day.